We work with precisely worked out methods for training and development of the potential, which integrate world practice and the specific business conditions in Bulgaria. The training programs are elaborated in keeping with the David Colb's cycle of learning and are under the trade mark of Alicorn-Consult. We apply the most modern forms for interactive training of adults – learning by action, experience, conceptualization, change of experience and active experiment.

The training methods we use are based on the modern concepts for learning in adults. Our main priority in training is using the previous experience of the participants in the context of the newly introduced terms and approaches. The trainings have practical purposefulness and there is always a connection between the introduced terms and approaches and the real situation by encouraging participants to look for a practical application of the concepts in their own situation.

We use a variety of training methods and techniques – presentations, simulations, role playing, group discussions, practical tasks, working in small teams, video tapes with a deep analysis, etc.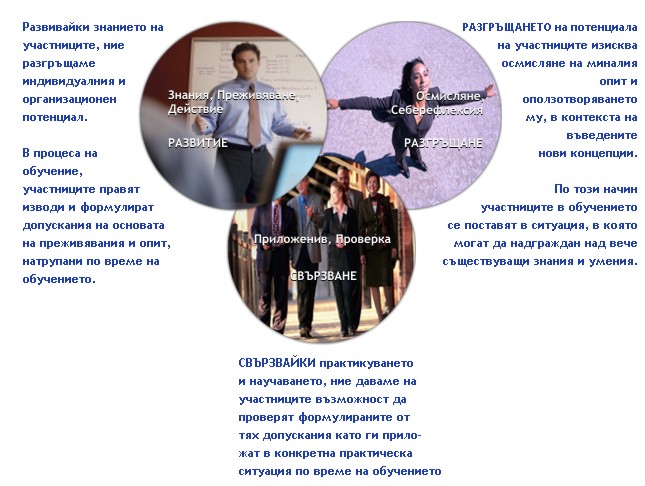 In the 21st century people are the main source for increasing the organizational competence. They are the means and the way to building effective organizations, which do not look into the present but into the future.

The high competence on the market, lack of qualified specialists and the dynamically increasing emigration of young, innovative and motivated experts, raises a number of questions for organizations about their competitive power to attract and retain talents.

The effective management and development of human resources is the key to this problem. Using this mechanism for influence is a very responsible task, which necessitates that managers have specific competences to interact with their employees (communication, delegation of tasks; development, training, motivation, stimulation and directing employees; building, development and managements of teams; solving conflicts, etc). That's why the level of development of these competences influences their ability to achieve results.

By helping you find and unfold your inner resources and potential on an organizational, group and individual level, we will help you leave your competitors behind and take a leading position on the market. We are your worthy partner and guarantee for success!


Our Portfolio in Trainings